About
A story about the birth of a Belgian sustainable fashion label
Before she created FAM, Vanessa Beniers was racing through life, like a lot of us, working a busy job with little creative satisfaction. Right after losing her mother and later also her job, she hit a metaphorical wall and crashed.
Loss is destructive but destruction always means opportunity, so Vanessa started digging for things that could give her life a renewed sense of meaning. She promised herself to never put another dream in a box, to unapologetically stand for what she believes in and to let love and passion guide her way. Turning her setbacks into wins ultimately guided her back to her childhood passion, her love for fine clothes.
Friendship and Collaboration
Life has a funny way of bringing the right people together at exactly the right moment. Around the same time Vanessa decided to enroll herself in several courses on patternmaking, fabrics and business she met Clarisse Rocha.
Clarisse was making a sustainable impact with her organic farming business in Portugal until the economic crisis hit. She felt forced to leave her home country and family to become a cleaner in Belgium and found a job working for Vanessa. As they both shared their stories about life and loss, they also shared their dreams and found common passions. A deep friendship was born and so was the drive to share their love for fashion and sustainability.
A few years later this friendship has grown into a strong collaboration. Clarisse was able to move back to Portugal and now manages FAM's entire production process.
We are a fashion brand but first and foremost, we are people. People who laugh and cry and crave connection. People who love hard and believe in the magic of community.
We are a fashion brand but first and foremost, we are human. We are more than cold measurements of size and weight, of revenue and efficiency. We want to put our humanity front and center in all of our endeavours. We don't build a community around our brand, we build our brand around our community. People are the driving force and people are the reason we center our values around sustainability and inclusiveness. It is our connection with one another that makes our work worthwhile. When we feel we are all working towards a common goal we feel united and empowered. When we see that we share the same values, hopes and dreams, we start to consider ourselves a FAMily.
This is us, the FAMily.
Get to know us.
Vanessa
Designer & Founder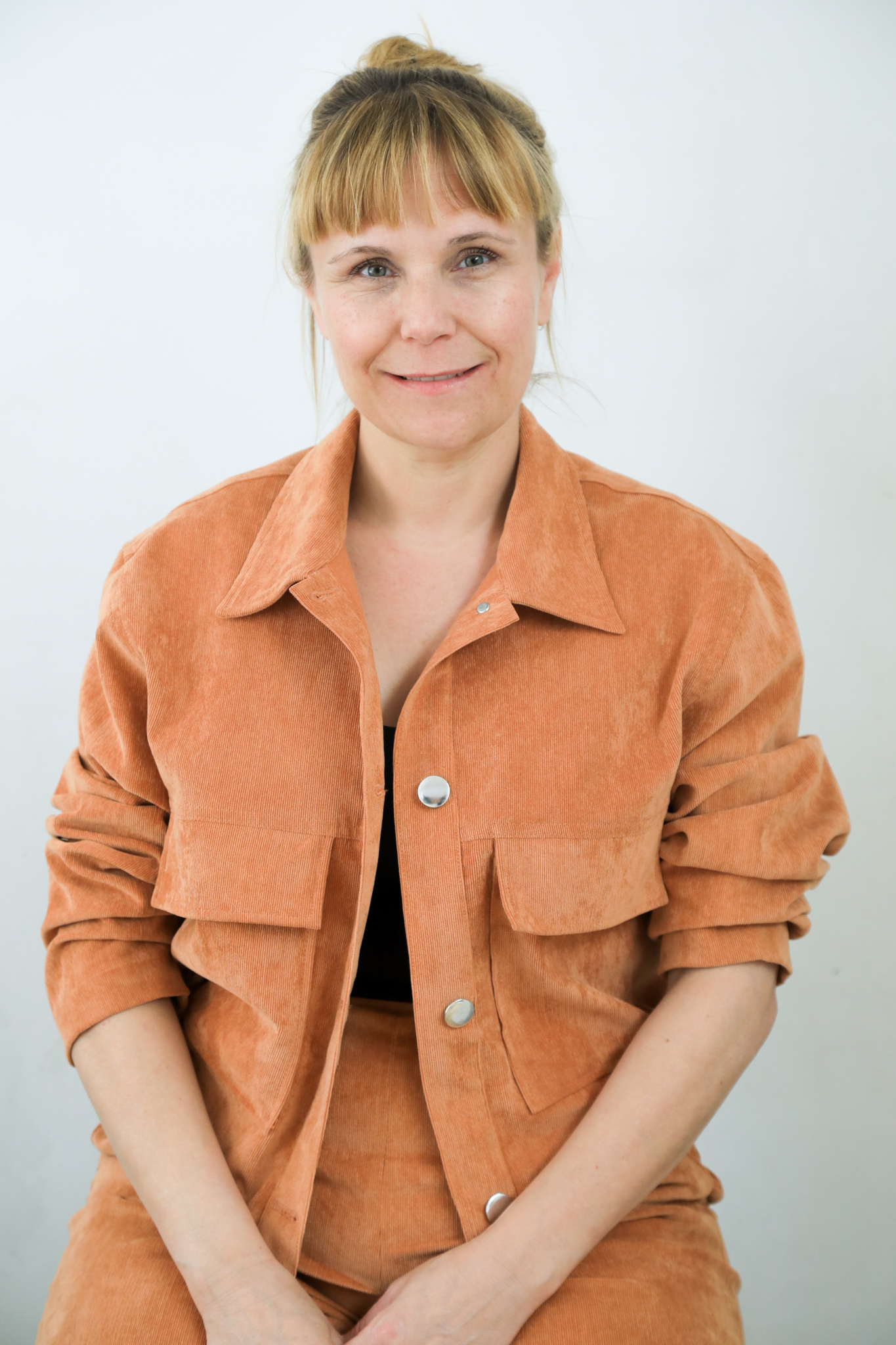 My favorite song: La Foule – Edith Piaff
Most loved FAM item: Our Mona dress, for its endless versatility.
A talent I am proud of: My creativity, being grateful in every situation and my ability to forge deep bonds with people.
On being a FAMme: It's all about authenticity for me and embodying the duality of my sensitive sides and my badass edges.
FAMbitions: Make our brand grow by building it with the right people; our FAMily. Bringing about a change in our mindsets when it comes to dressing sustainably and making FAM an established value in this market.
My favorite song: Here Comes the Sun – The Beatles
Most loved FAM item: Our Hanna Jumpsuit
A talent I am proud of: Connecting the creative aspects of the brand with the technical. My ability to easily connect with other people and making them smile in stressful situations. I love taking care of people and am also considered the mom of the family.
FAMbitions: To see FAM grow into an internationally successful brand.
Clarisse
Head of Production & Quality Manager
Anaïs
Creative Community Manager
My favorite song: Lazy Nina – Greg Phillinganes
Most loved FAM item: Ash & Lee in Dark Clay Tencel
A talent I am proud of: My creative side – exploring & expressing new ideas.
FAMbitions: Spreading our message with creative content that reflects our FAM values. To not be afraid of being a little silly or breaking boundaries in order to reach our goal of a sustainable and ethical future.
Ilda & Manuel
When researching how we would tackle the production of our garments, one of our fabric suppliers gave us an address. We didn't have a phone number to make an appointment so we just drove there and were immediately welcomed as family.
Everything just clicked and after discussing some things over a nice dinner that Ilda and Manuel had prepared for us we decided that these were the people who would handle our production. Soon after that Ilda made our very first FAM piece because she deeply believed this was the start of an amazing adventure together. She couldn't have been more right.
Ilda and Manuel are now irreplaceable members of our FAMily. Our connection is deep and the amount of care and perfection they put into the production is uncomparable. We could not do this without them.
Katrien
Print designer
My favorite song: Roam – The B52's
A talent I am proud of: My sense of color, my capacity to capture ambiance and feeling with my drawings.
On being a FAMme: Sharing values and visions with a community of likeminded people is what's important to me.
FAMbitions: To make women feel joyful and unique in their FAM outfits.
My favorite song: Millionaire (ft. Andre 3000) – Kelis
Most loved FAM item: All of our Kate trousers, they are incredibly flattering.
A talent I am proud of: Living and thinking outside of the box.
On being a FAMme: Embracing the full scope of what I am, trusting my intuition and not waiting for anyone's approval to stray off the beaten path is what makes me feel complete.
FAMbitions: To be a drop in the ocean of people who are working towards a sustainable and inclusive future. That our mindful way of doing business will one day outweigh the impacts of fast fashion.
Celine
Wordsmith & Visual Content Creator
Sophie
Producer prototypes
My favorite song: Boys will be boys – Dua Lipa
A talent I am proud of: My ability to turn a 2D design into a 3D garment and the sewing skills I need to accomplish that.
Most loved FAM item: I absolutely love the Elise jumpsuit.
FAMbitions:I want to keep improving communication between the design team and production team to produce high-quality garments.
Christel
Marketing coach
You
The FAMme we design for
You're the star of our FAMily because your choices as a consumer are driving the real change. You are making our dreams possible and for that we love you, we thank you, we see you. Keep shining, keep doing you.